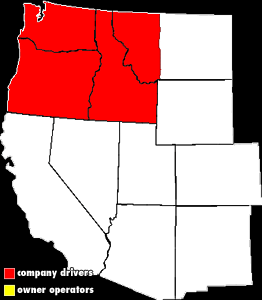 We are always looking for good, reliable company drivers and Owner/Operators to drive for us. We run the 11 western states plus British Columbia and Alberta. If you live along the I-5 Corridor, you will be gone an average of 7 to 10 days at a time and be home on average 2-4 days. You will on occasion be able to stop and visit with the family during the week for a couple of hours or overnight.
Equipment: 53ft 4 axle trailers, 3 axle tractors, stretch trailers, A and B trains, dump trucks
Primary commodities: wallboard, steel, equipment, building materials and agriculture
Contact us for details.